Dynasty!!! VHS Wins 8th Straight Region 2AA One Act!!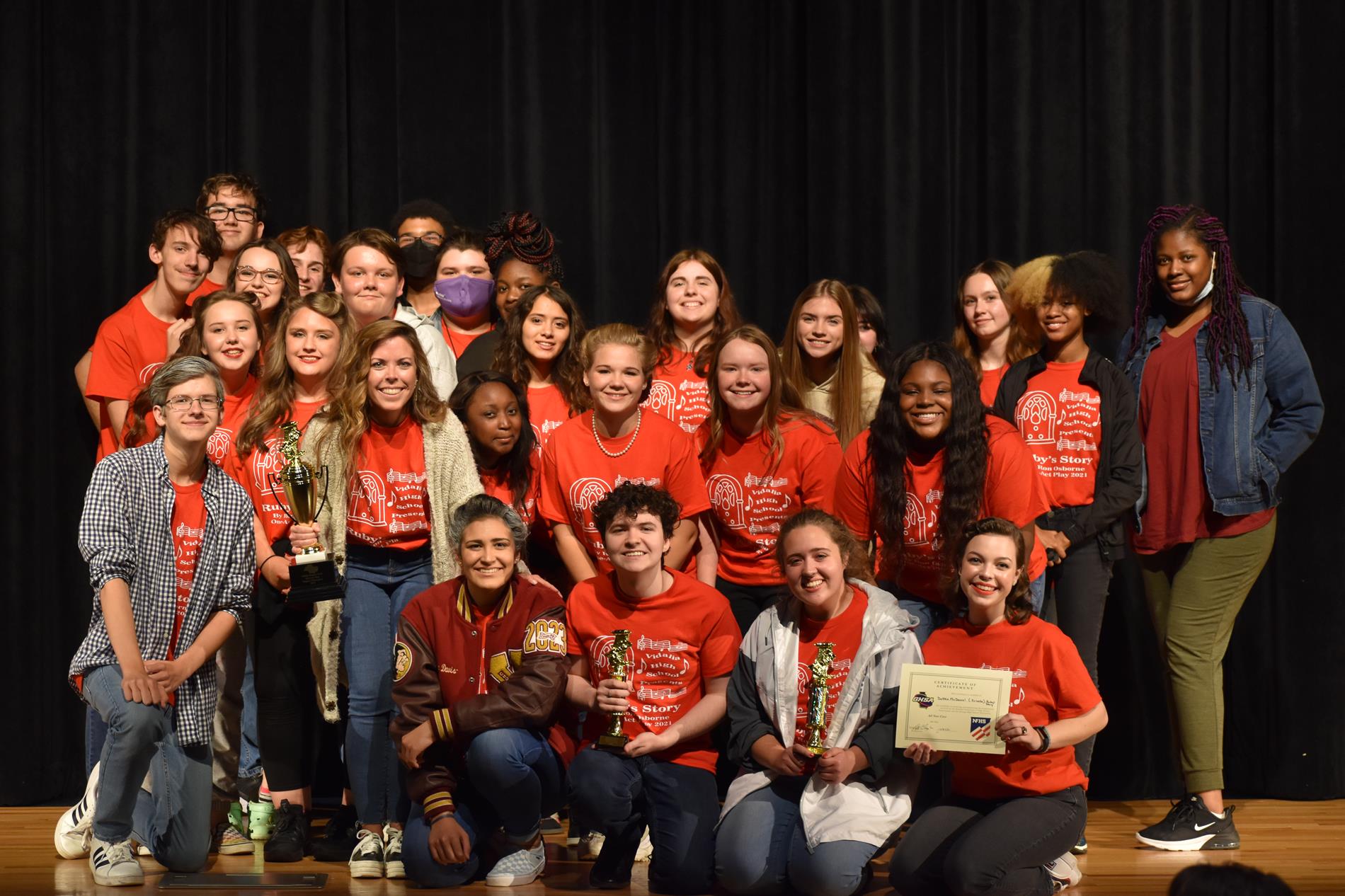 ---
The word "Dynasty" sometimes gets overused in the day in which we live, but when it comes to the Vidalia High School One Act Play, to not assign the term might be a slight, as the Cast of "Ruby's Story" won Vidalia's 8th straight Region 2AA Championship.
The Vidalia team received high marks from the judges, which qualified them for the State meet on November 20th at the Monroe County Fine Arts Center in Forsyth.
Two of Vidalia's performers captured the top individual awards, with Senior Mikkelle Peters (Adult Ruby) taking Best Actress and Roman Edwards winning Best Actor.
Peters, who is in her 3rd year of the VHS One Act, said that she was honored by the award, "this is my third year doing One Act and I have never gotten any type of award, so to get this feels incredible."
Peters, who said she was "shy" when she first tried out, had some words of advice for those who think they "may not have what it takes" to perform. "Just go for it, "said Peters. "I never thought I could get up and cry in front of a group of people, but Ms. Pournelle will help you and others will also help. So you just have to find those people to help you and then go for it and try it!"
Two VHS performers also garnered All-Star Cast Awards, including Sophomores Dottie McDaniel (Frieda) and Alan Johnson (Sid).
Margaret Pournelle, who is in her 17th year as Director/Coach, says that she is "very grateful to get another Region Title, their 10th in the last 17th year, "I am very grateful, super excited, and also relieved. This group has been working super hard and deserves the recognition."
Pournelle said that this year was gratifying because of the challenges that "Ruby's Story" presented, "It is very hard. There are a lot of levels to unpack, a lot of emotions and things that characters are showing to each other and a lot of things they are hiding from each other at the same time. So, you have to keep that in mind when you are portraying it. Because all of that has to be talked about."
Of course, the ultimate goal for the VHS team is a State Championship, and they will get their opportunity in a little over three weeks when they perform in Forsyth. And Pournelle said there is still some work to do, "we really need to break down the scenes again and take the judges feedback and find moments they pointed out to make them better."
The community will have three chances to watch "Ruby's Story" beginning Sunday, November 14th at 2:00 PM, with an "understudy" performance. "These students are at every rehearsal and put in long hours and deserve a chance to take the stage during a performance," Pournelle said.
The other two performances will be Monday, November 15th, and Tuesday, November 16th at 7:00 PM. All performances will take place in the Vidalia High School Auditorium, and tickets will be available at the door for $5.00.