Spring Instrumental Showcase Announced!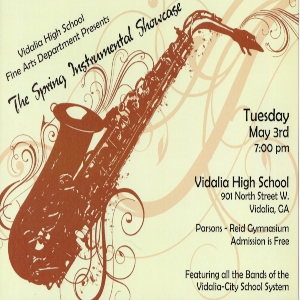 ---
The Vidalia High School Fine Arts Department invites you to their "Spring Instrumental Showcase" on Tuesday, May 3rd. The event begins at 7:30 PM and will take place at Vidalia's Parsons-Reid Gymnasium
Bands featured will be the Sally D. Meadows 5th Grade Band, J. R. Trippe 6th & 7th Grade Band, J. R. Trippe 7th and 8th Grade Band, J. R. Trippe Percussion Ensemble, the Vidalia High School Percussion Ensemble, Vidalia High School Jazz Ensemble, and the Vidalia High School Symphonic Band.
This event is free to all attendees and is an excellent way to hear all of the Vidalia-City School System Bands at one time.