REACH Scholarships Awarded!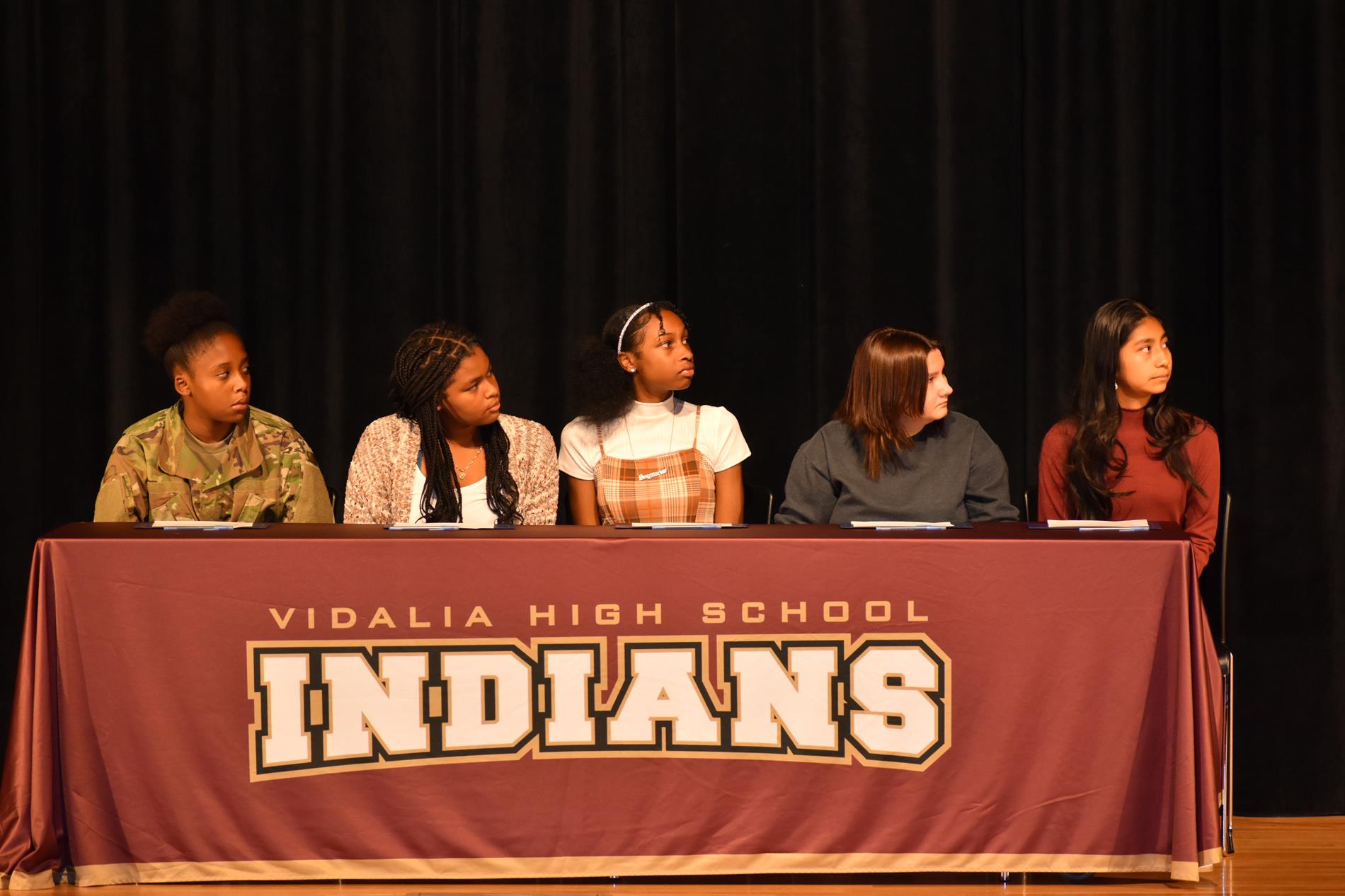 ---
For the 5th year, Vidalia City Schools has presented $50,000 of needs-based scholarships to five J.R. Trippe 8th graders. In a ceremony at Vidalia High School, Luz Maria Alonso-Resendiz, Tiniti Hanbury, Dreshiya Jackson, Marly Nichols, and Ja'Niyah Willis received $10,000 REACH Scholarships that will garner them financial support upon graduation.
"These scholarships provide not only financial support when they graduate, but they also provide academic and social support as they move through High School," said J.R. Trippe Principal Dr. Sandy Reid.
The program began in Georgia in 2012 and has had nearly 3600 students participate and has committed over 36 million in scholarships to students in 180 systems.
One of this year's recipients is Marley Nichols, whose mother, Latoria Glasper, said this is a "game changer" for Marley and her family. "I have an older son currently attending college, so I know I'm super happy and I'm sure it's going to help me and her dad save a lot in our pockets."
Nichols went on to say that this shows that Marley is concerned about her future and is working hard to make it happen. "It shows just how important her future is to her. She's a very positive, smart young lady, and I've noticed so much maturity and major growth in her. I'm hoping that this will make her push even harder."
Trippe Assistant Principal Michael Johnson, who has taken the reigns of the REACH Program, said the future of these students is a bright one, "their future was bright, and they now have a reason even to strive harder to complete high school and to continue to, invest in their own education and their future. And this really sets an even stronger foundation for them to complete the K12 experience.
Johnson said the process for receiving the scholarship was grueling: "the interview process and the application process is a rigorous one. But our interview panel, filled with community members, was very complimentary of these students."
To be eligible for the REACH Georgia Program, a student must complete an application and an interview process from a panel in Vidalia that has no ties to the student. Other requirements include
1) Currently be a rising 8th grader at an eligible Georgia school in a participating district
2) Demonstrate and provide proof of financial need
3) Have proven legal status in the United States (U.S. Citizen or legal resident)
4) Have good attendance and behavior
5) Have grade reports reflecting at least a 2.5 cumulative grade point average in core courses
6) Have a crime and drug-free record
7) Have demonstrated the support of a parent, legal guardian, or another caring adult
Each student will have a mentor who will help guide them as they go through their high school journey to ensure they stay on track.