MacGregor and Meredith Are STARS!!!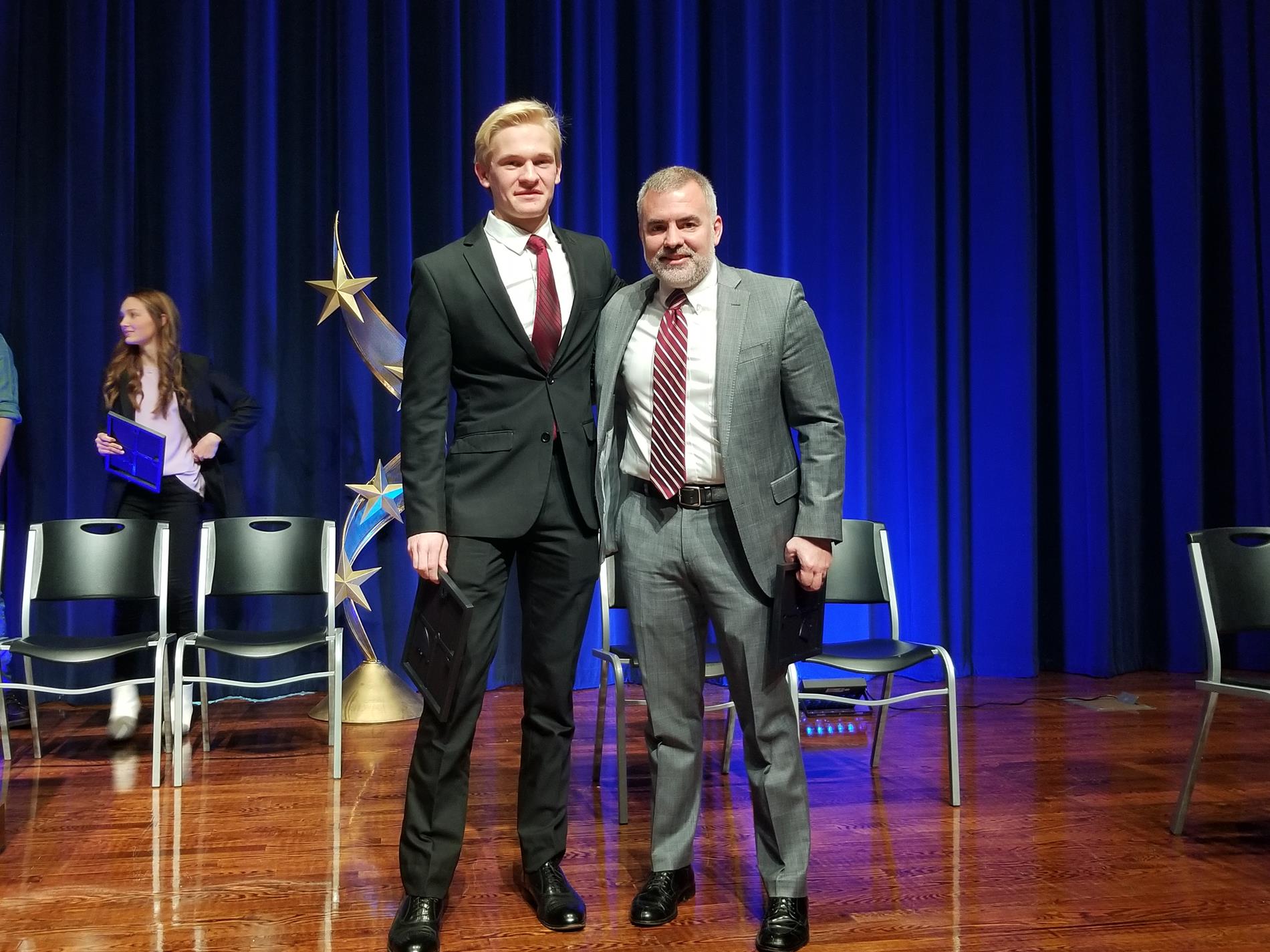 ---
Vidalia High School's Seth MacGregor was honored Tuesday night as the systems STAR Student. MacGregor, a senior at Vidalia High School, chose Grey Meredith as his STAR Teacher. The duo was honored with other STAR recipients in a ceremony at Toombs County High School, which was presented by the Vidalia Kiwanis Club.
MacGregor, who hopes to get an appointment from The Naval Academy or West Point, said that he is honored to be selected as the STAR Student, "first of all, it's an honor for sure. It's a blessing. It's proof that I have a work ethic, an intellect, and proof that my parents have trained me well."
MacGregor, who led his Cross Country Team to a Region Championship this year, said that the award was something he had thought about early on, "I think it definitely motivated me to put in that extra work, to get where I wanted to be here tonight."
When asked why he chose Meredith, MacGregor said it was an easy choice, "he's a person of excellence, a man of excellence in all that he does, in every way that he leads in the classroom and outside of the classroom as well. He's a man of excellence."
Meredith, Vidalia's only Naval Academy Graduate, said, "this is a huge honor. I'm honored, and I'm privileged to share the stage with Seth. I know he is going to do great things. He has a great work ethic, determination, and drive."
Meredith went on to say Seth is just one of those students that makes teaching fun. "I wish all of our students could be like Seth, but, he is a special student. He's going to do great things."
Meredith, who owned a successful construction business, got into teaching later than most says the love of the profession made him want to share his knowledge with others. "I got into teaching one because I love construction. I love what I do. I came through the construction program at Vidalia. I love what it did for me, and I wanted to do the same thing for students coming through Vidalia. We need to produce craftsmen. We need to produce engineers, and we need to produce guys that want to work hard and make a difference in their community. So, I wanted to live that out with teaching.
The PAGE Student Teacher Achievement Recognition (STAR) program honors Georgia's highest-achieving high school seniors and the teachers who have been most instrumental in their academic development. Since its creation in 1958 by the Georgia Chamber of Commerce, the STAR (Student Teacher Achievement Recognition) program has honored nearly 29,000 students, who have, in turn, chosen their STAR Teachers to share in this recognition. Every accredited high school in Georgia is eligible to participate in this preeminent student/teacher academic recognition.