Robinson & Messex Honored at Board Meeting!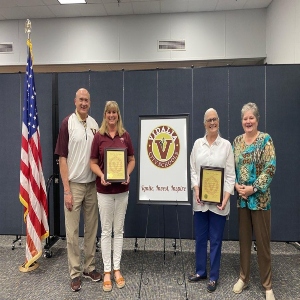 ---
Two longtime employees retiring at the end of the year were honored at the May Vidalia Board of Education Meeting on Tuesday. Kim Robinson, a 30-year Social Studies teacher at Vidalia High School, was honored along with School Nutrition Bookkeeper Vicki Messex.
"I am very thankful for Mrs. Robinson's contributions to the students, faculty, and staff at Vidalia High School." Vidalia Principal John Sharpe said. "She has been a great instructor and will be missed."
Messex, who has been at the Central Office since 2016, began her career at VHS in 1995, has been a part of all of the four schools in the system, and even followed her mother as the Food Service Manager at Sally D. Meadows. "Having Vicki has been a Godsend!" said Director of School Nutrition for the Vidalia City School System, Denise Parsons.
"I so appreciate everything that Vicki has brought not only to our schools but also to our children and staff. She has a genuine love for the job and is highly respected. She has also become a very good friend, and we are going to miss her, Parsons added."
Vidalia City School Superintendent Dr. Garrett Wilcox said that the system has "been blessed" to have such quality people in the system for such a long time. "These are individuals that have dedicated a great portion of their life to education. Their service is not only greatly appreciated but it is going to be missed."