Leadership Changes Coming at JDD & SDM!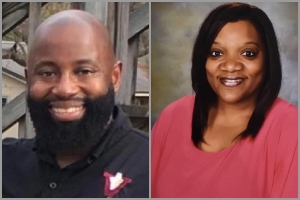 ---
During its regular meeting of the month, the Board of Education of the Vidalia City School System made some leadership changes for the upcoming 2023/24 school year. Following an Executive Session, the Board announced that J.D. Dickerson Principal Brandon Boston would become the Principal at Sally D. Meadows Elementary, replacing Scott Stephens, who will move to the system's Alternative School. Charlene Norfleet, the Assistant Principal at Dickerson, will be promoted to the Principal's position. All moves will become effective July 1st.
After the meeting, Interim Superintendent Dr. Sandy Reid commented, "After much consideration, and conversation, the Board voted to implement the recommended leadership changes. We feel that these changes are positive, and will allow for the continued growth of our students and system. We are excited to see what these changes will bring, and anticipate nothing, but great results."
Dr. Reid continued by saying, "Brandon, has been in a leadership position for 9 years, and has excelled and impacted every school he has led. Part of his leadership team at Dickerson is Mrs. Norfleet, who we feel is ready to lead a team of her own. Her hard work, and dedication to the students and staff of JDD, has been nothing short of great, and we look forward to seeing her and her team build on what Mr. Boston has begun."
Boston, who began his time with the Vidalia City School System at Meadows, said, "it's an honor" to return to SDM, "It's an honor to be the new Principal at Sally D Meadows. I started my career in Vidalia City Schools as the Assistant Principal at SDM, and to come back 9 years later as Principal is special. I look forward to working with the team at SDM to give students and parents a great school experience. I am going to miss the staff and students at JDD. The staff and students will be in great hands with Mrs. Norfleet as Principal."
Norfleet, who has been the Assistant Principal at Dickerson for four years, said that she is "honored" to have the opportunity of leading Dickerson. "I am extremely humbled and honored to have this opportunity to serve at J. D. Dickerson Primary School in the role of Principal for the upcoming school year. Our mission is to continue the great work that has been accomplished under Mr. Boston's leadership. We want to finish this year strong and get to work preparing for next year."