Meadows Park Donates School Supplies to Vidalia City School System!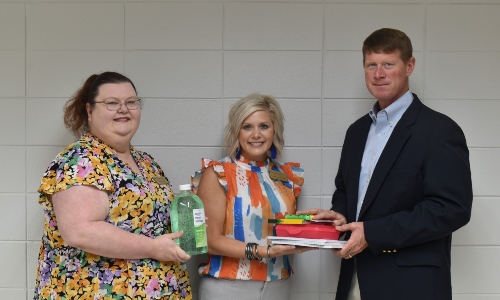 ---
Meadows Park Health and Rehabilitation of Vidalia recently dropped off a load of "School Supplies" for the Vidalia City School System students.

Meadows Park Administrator Rachel Parker said that she and the staff at Meadows Park realize the need for supplies this time of year, "we understand that there's a huge need for school supplies. My sister-in-law is a teacher, and I know how often she has to buy school supplies. You know, not everybody is fortunate enough to be able to provide those supplies for their students. And so, with school starting back, we just felt really led to help our community, and we wanted to give back to those that are constantly giving and pouring into us."

Superintendent of Vidalia City School, Dr. Garrett Wilcox, said it's always nice when local businesses take time away from their business to help out our students. "I can't thank Meadows Park enough for their kind donation. We have some great business partners and we are thankful that they saw the need and made this donation of school supplies."

Parker said their "Missions Coordinator," Ashly Crumpton, deserves a lot of the credit for the donation, "Ashley helped coordinate this and we couldn't be more pleased with the results. We have had a list and a table at the entrance of our facility, and theirs a board full of the school supplies that are needed. And people have been so receptive and have just dropped off bags of supplies for us to give away."

Crumpton said that the drive will go on through August 1st, and those wanting to participate may drop off their supplies at the facility.