Ajohda Sworn In As Board Member!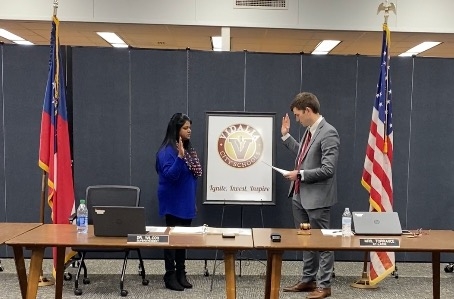 ---
The Vidalia City Board of Education welcomed a new member to the Board on Tuesday night as Sadia Ajohda was sworn in to represent Ward 2.
Ajohda, the Director/Instructor of Biology at STC, was appointed in the regular December meeting and will fill the unexpired term of longtime Board Member Tim Truxel who resigned in December because of a change in residency outside of the Ward.
Ajohda, who, along with her husband Derek, owns Vidalia Karate, said that she is honored to serve in the position. "This appointment is such an honor. We have lived in Vidalia the past 26 years and have developed an immeasurable appreciation and dedication to our community. I hold our Vidalia City School System in high regard, and I am committed to serving at my utmost capacity in my new role".
Vidalia School Superintendent Dr. Garrett Wilcox welcomed Ajohda to the board and said, "Mrs. Ajohda has been an interictal part of our school system for many years as she has served on school governance councils and parent organizations in the past. The system is very fortunate to have Sadia on board to be a part of providing support and direction for years to come."
The Ajohdas have two children, Aleah (15), who attends Vidalia High School, and Nalini (11), who attends Sally D. Meadows.