Caraballo is Vidalia City Schools Teacher of The Year!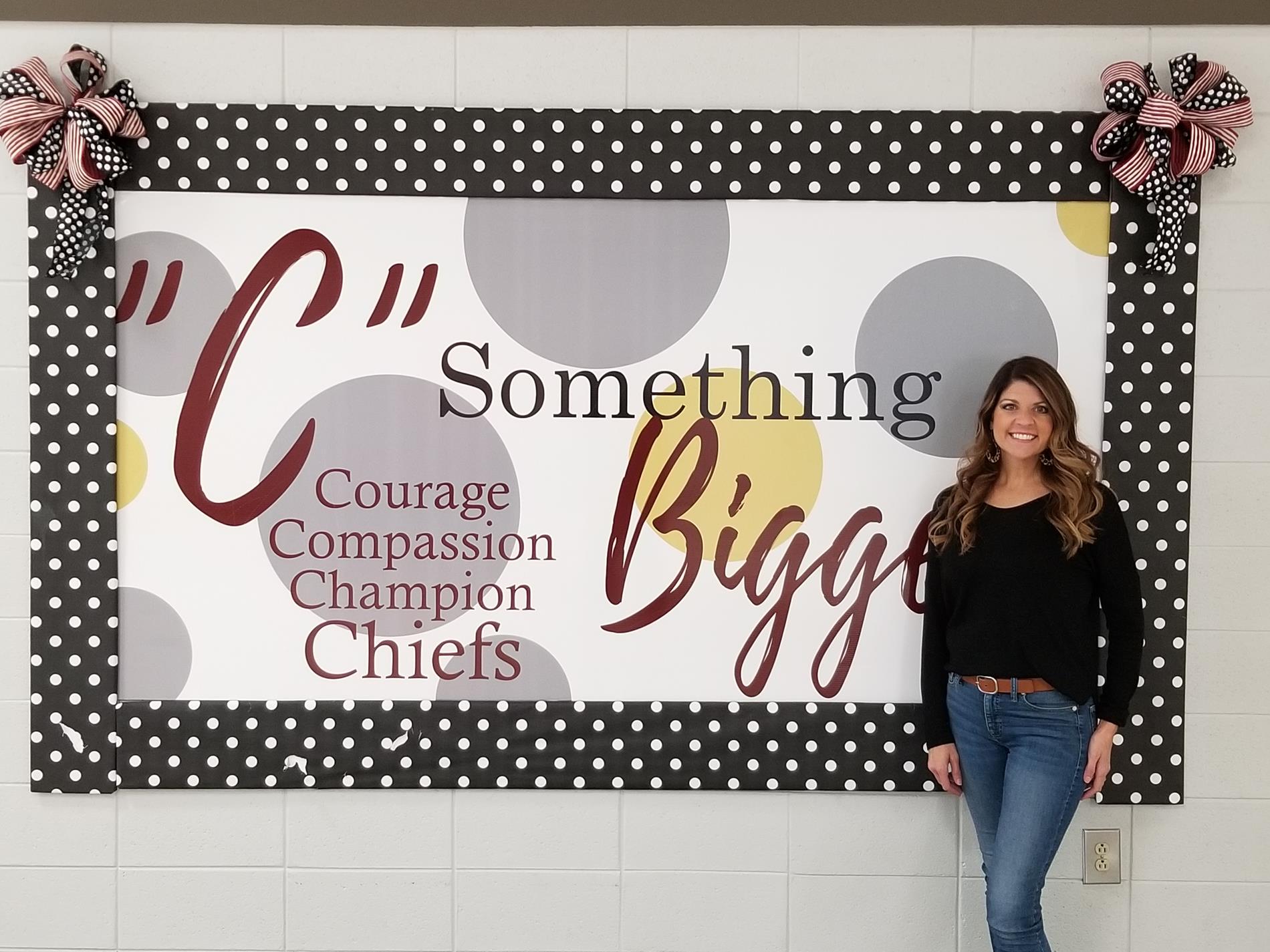 ---
The Vidalia City School System is proud to announce that their Teacher of the Year is Julie Caraballo. Caraballo, an 18-year veteran teacher, has been with the Vidalia City School System for 17-years and currently is a 7th-grade teacher at J.R. Trippe Middle School. "This is such an amazing honor to be named System Teacher of The Year," said Caraballo. Caraballo went on to say, "I teach with highly qualified and amazing teachers who care about students and who do their job day in and day out, and I'm not sure how you choose one teacher for this."
Caraballo, who was selected from a group of four finalists who represented each of Vidalia's schools, says that "Teaching is what I was created to do and I am blessed to be an educator."
The other finalists who represented Vidalia's three other schools are VHS - Wade McLeod, SDM – Kristen Palmer, & JDD – Valarie Tapley.
Caraballo went on to say that the reason she went into education was the inspiration that she received through her own education experience. "From Kindergarten into college, I was inspired by fabulous teachers and coaches who believed in me, encouraged me, and made me want to be the best that I could be. The only occupation I ever considered was teaching."
The mother of two (Zoe 12, & Levi 7), Caraballo is married to Jose Caraballo and said that the ability to "touch a child's life" was her motivation. "Knowing that I could be the one to touch a child's life, to help them realize their potential, and make them believe in their dreams is the only motivation I have ever needed. I have always wanted to make a difference in the world and I needed an occupation that would give me an opportunity to pour into others."
J.R. Trippe Principal Dr. Sandy Reid said that Caraballo has a "servants' heart" and cares about the kids in the classroom and, they know it. "She has developed relationships with the kids that enable her to require high levels of engagement and high levels of work in her classroom. Students work hard for her because of the relationships she has built with the students."
Reid went on to say that Caraballo is a "teachers' teacher" and is one of our mentor teachers. "It's not uncommon to find Julie working with teachers who are new to the profession or to the school. She does a great job with that, and she actually has helped us hammer out a lot of the protocols that we use for mentoring teachers. A lot of the structures that we have in place, she was critical in creating those."
Reid said that Caraballo is "kind and compassionate," and that helps her with her role in mentoring others. "The teachers respond very well to her and she may be one of the most patient people I know, so she works really well in the role of mentoring others."
Reid added that "we have a building full of great teachers and it's really hard when you try and determine what characteristics would allow one to be recognized in this role, and at the end of the day, she just has all of those characteristics. She is a ten out of ten in every area and very much deserves this recognition."
In years past, the TOTY was voted on by their peers in the individual schools, but because of the change to a cash award for the honor, Vidalia Assistant Superintendent Ginger Morris says the process needed change. "Teacher of the Year is an exciting time in our school system as administration and staff once again reflect on the attributes of what makes a great teacher! This year's process was different as this is the first time our teachers received a monetary award at both the school and system level. The process begins with administration using the TOTY criterion to narrow the field of possible recipients. Once that is done, their peers voted on the list of teachers who meet the criterion to represent them! In this season of thankfulness, we are blessed to have so many great teachers at each school from which to choose. The decisions are hard, but our staff always rises to the occasion to choose who they want to represent them at the next level.
"The judges told us it was a hard decision this year and they complemented each Teacher chosen at their respective schools. As the Assistant Superintendent of Curriculum and Instruction, I couldn't agree more! I am excited for our 2023 Teacher of the Year, Mrs. Julie Caraballo. Her passion for the students in her class and school are evident in and out of the classroom. To know her, is to see someone who is passionate about her vocation and exudes her love of teaching to students and staff. An "Indian" from birth, she is a culmination of all that is good and right with public education. I applaud her for her dedication to her beliefs and for continuing the legacy of excellence in the system!!"
Caraballo and the other finalist will be recognized at the December meeting of the Vidalia Board of Education, where they will be presented with a cash award and plaque honoring their selection.
Below are the Teachers of the Year from each of the four Vidalia City School System schools.
JDD - Valerie Tapley - Tapley has been teaching for 16 years, with the last 6 in the Vidalia City Schools. Tapley is married to Jay Tapley, and they have two children, Abigail, 19, and Emma, 16.
Tapley says the reason she became a teacher was because of her "love of children, their well-being, and their learning." Tapley went on to say, "I have always enjoyed interacting with children and believe I can make a difference in their lives. I hope to make an impact on each child I teach and hope they leave me knowing that I love them."
SDM- Kristen Palmer – Palmer has been teaching for 30 years and has been in the Vidalia City School System for 23 of those years. Married to Jeff Palmer, the Palmers have two children, Jodi Tharpe-22 and Sara Kate Palmer-19.
Palmer said that she became a teacher is "that is what I feel I was meant to be." Palmer added, "I cannot remember a time that I didn't want to teach. I love being able to help students grow into lifelong learners and productive citizens."
VHS - Wade McLeod – Wade has been teaching for 4 years and 4 months in the Vidalia City School System, although he taught adults for 32 years at SNC/Hatch. McLeod is married to his wife Luanne, and they have six children, Joseph-37, Ben-35, Stephen-33, David-31, Anna-29, and Nathan-26.
McLeod said his reason for becoming a teacher was, "I found a number of years ago that the only life worth living is one that's given away. The question then was what from my life could I give away? It was my love for teaching others - to see someone learn something new." McLeod added, "Then there is love: compassion, patience, and kindness. I could always give those away and teaching provides the pathway. Of course, I miss the target often, but I'm still aiming. Next to that, I'm also blown away by the world God made. Learning about His amazing creation - the order and beauty are exciting and never grow old. It's a joy to see someone's eyes light up when you see them catch the wonder of this world."